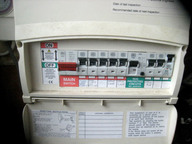 HOUSE REWIRING
Does your house need a new Fusebox?
Does your property need full or partial rewiring?
We can tell you all you need to know after a 1 hour (approx) visual inspection.
IS A REWIRE NECESSARY
In an older property such as houses in Bath, the wiring is often original with some 'add ons' such as kitchens and extensions. If wiring is very old it is always a good idea to modernise and update it for the safety of the property. If your home is being renovated it is a good time to rewire and update your sockets and lights. We specialise in houses that are occupied, although unoccupied is easier!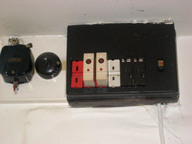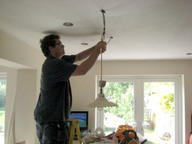 REPUTATION
Mark Evans Electrical have established a good honest reputation locally with many households, small businesses, estate agents and surveyors, and we work to keep and improve this where necessary with the latest training and updates. Mark will work with you through the whole process and in the future to ensure that your requirements are fully met and you are 100% satisfied.
MAKING YOUR REWIRE EASIER
Our electricians take great pride in their work and will go out of their way to help you during the rewire process. Removing furniture from rooms and organising can make the job a lot less stressful. Not only can we help with this, but we always strive to keep firmly to our set timescale- very important if other tradesmen are involved or are required to follow us.
We do not employ a plasterer ourselves, but have connections with 3 good local plasterers who can be engaged to make good your light switches and sockets.
Dust sheets, plastic sheets and industrial hoovers are very important items in our vans!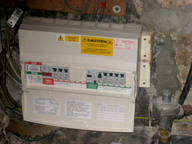 Mark Evans Electrical specialise in house rewiring whether the house is occupied or unoccupied.
WHAT DOES A REWIRE INVOLVE?
Your existing wiring is built into the fabric of the property. Its under the floor boards, over the ceilings and under your plaster. All your wiring starts from your fusebox, usually under the stairs, and ends at your swtiches, sockets and lights. During a rewire, our Bath based electricians will access all the above areas and replace your old and damaged wiring.
COMPLETE REWIRING – EXTRA SOCKETS – BURGLAR ALARMS – SECURITY LIGHTING – ENTRY PHONES INSTALLATIONS & REPAIRS – KITCHEN ELECTRICS – ELECTRICAL TESTING & INSPECTIONS